SwingInUlm GbR - SwingDancing In Ulm
Klaus and Gerda live in Ulm and have always danced together. After starting with Disco-Fox and BallroomDancing, they lost their hearts to Boogie Woogie and SwingDancing in 1992.

From 1994 to 2000 they were members of the German National BoogieWoogieTeam and, in addition to the multiple German Championship titles in Boogie Woogie, have achieved countless national and international successes.
From 1996 to 2000 Klaus was also a key member of the DRBV Presidium in the development of the Boogie Woogie, especially the youth and oldie class in the national association and in the WRRC.
In 2003 they developed the idea of ​​the first mixed Boogie Woogie tournament formation Boogie@Motion in Baden-Wuerttemberg with the music selection and the basic choreography "Al Capone" and were thus the originators of the Vice World Champion title of the formations that was later achieved in 2005. Unfortunately, they had to shortly after the foundation get out due to injury.
Klaus and Gerda have gained a lot of experience through countless tournaments and further training, regular engagements as trainers in clubs, dance teachers in dance schools, and as lecturers at seminars, in dance animations in hotel complexes in Europe and North Africa. They are constantly concerned with dancing and what else is involved.
In 2011 they founded SwingInUlm GbR and have already introduced many people to swing dancing. Their impressive lessons, trainings and workshops offer the participants (courses, trainings, private lessons, individual or group) the opportunity to profit from their enormous experience and to improve their individual dance performance.
With their own style and unique character, they make every dance-lesson a special experience.
Give it a try and see for yourself, there are plenty of ways to do this.

we offer you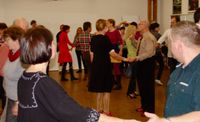 SwingDanceInUlm, aroundUlm & allroundUlm
SwingDanceInUlm, aroundUlm & allroundUlm
Swing dance - trial lesson (90min.) or course, or private lessons (also as a gift)
courses - Boogie, Balboa, LindyHop - start at any time, no fixed course periods
SwingDance Training - SwingDancing at the "SCHWABENTARIF" - without contract
Workshops - also at your home (groups, clubs etc.)
DanceEvents
DanceEvents
Boogie&SwingNights Dancing to the "In The Mood"-Music of the Golden 20s to the Wild 60s & up to modern Swing. Happy Feet & Happy People (everyone is welcome) in a stylish vintage outfit immerse yourself in the good old days, admire the different styles, enjoy the atmosphere and meet friends - a dance evening that you will not forget.
OberschwabenSwingNächtle Same atmosphere as mentioned above, but at your vicinity (what we call Oberschwaben)
Swing-DJ Klaus the right DeeJay for your very own swing party (call or mail for booking)
Gerda's VintageMarket
Gerda's VintageMarket
VintageFashionFleaMarkets You like stylish/original vintage clothing for swing dancing and you enjoy moving to swing music, then you have come to the right place. Traditional vintage market and flea market always on January 6th in Munich in the MAILLINGER STUDIOS and at other various events.